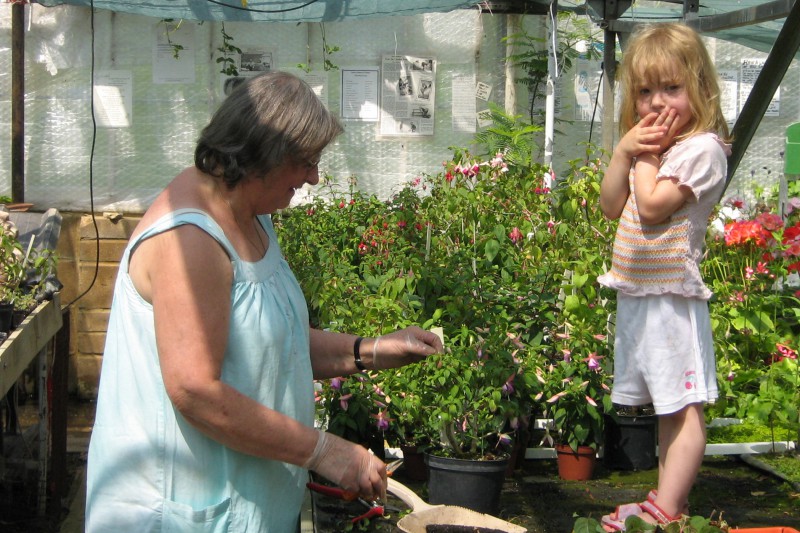 Time Flies Like A Weaver's Shuttle!
On the first day of February 2022, I noticed our 'home page words' were still wishing everyone a Happy Christmas. And just a week off the anniversary of my dear Mum's passing I realise that that was five years ago - where does the time go?
For us, like many in horticulture, January is an odd month – a month where it is incredibly easy to get ahead on production only for weather and light levels to deteriorate in February and March and knock things further backward than if you'd started later! Certainly this past January has been a month of dry and mainly bright days – a good year to get lulled into doing too much too soon. Already on social media and forums gardeners are goading each other with, "I have already sown this", or "such and such has already germinated" - and such madness is fuelled by the gardening magazines who's March issues came out the end of January (yes, the March issues and so March advice!) We have benefit of good heat and this year have upgraded our supplementary lighting so can start things a little earlier - but even so we have to think ahead to what light levels will be like when plants are moved from the prop area. So our top tip is don't be in too much of a hurry!
But now we are into February it is time for us to really ramp up our propagation! Over the weeks and months ahead our propagation beds will fill to bursting point and we will start the annual fight to find space - the annual process of successional sowings and batches of cuttings going on well-lit heated beds... - then as soon as we can onto the open heated greenhouse benches... - then moved to 'cold glass'... - before being hardened off PROPERLY... - and finally being ready to dispatch!
And this year we're going to be just a little bit more squashed and tight for space. For the first time since Mum (pictured above with our daughter Molly) became poorly we have been able to propagate her entire Hardy and Half Hardy Fuchsia Collection. In a similar way to how Mum took over our Fuchsia production in the late 1980's having previously spent most of her time 'stuck' in the office, Serena has now taken over the Collection – and true credit to her for the mammoth learning curve that it has been to bring the Collection back from ' the brink'. After Mum passed we very nearly gave up with them all together – right now Serena is in the middle of potting up over 5000 Autumn propagated plants!
We have decided to keep the nursery closed to calling customers for the foreseeable future. We've always loved to see customers in person and have a natter, but right now we think it important to keep ourselves and our team as safe as we can in the uncertain months ahead. We do, of course, continue to offer a full mail order service - and 'contactless' collections can be arranged (via our online Checkout) for more local customers.
Be sure to follow all our antics at the nursery on Twitter, Facebook and Instagram you'll be able to see what we're doing when - a good guide to what you should be doing too!
So that is us and our home page words for now. Perhaps we'll update these a little more often…
Happy Gardening
Stephen, Serena, Molly & Oriana Shirley - And All The Team At Victoriana
View older Diary Posts.